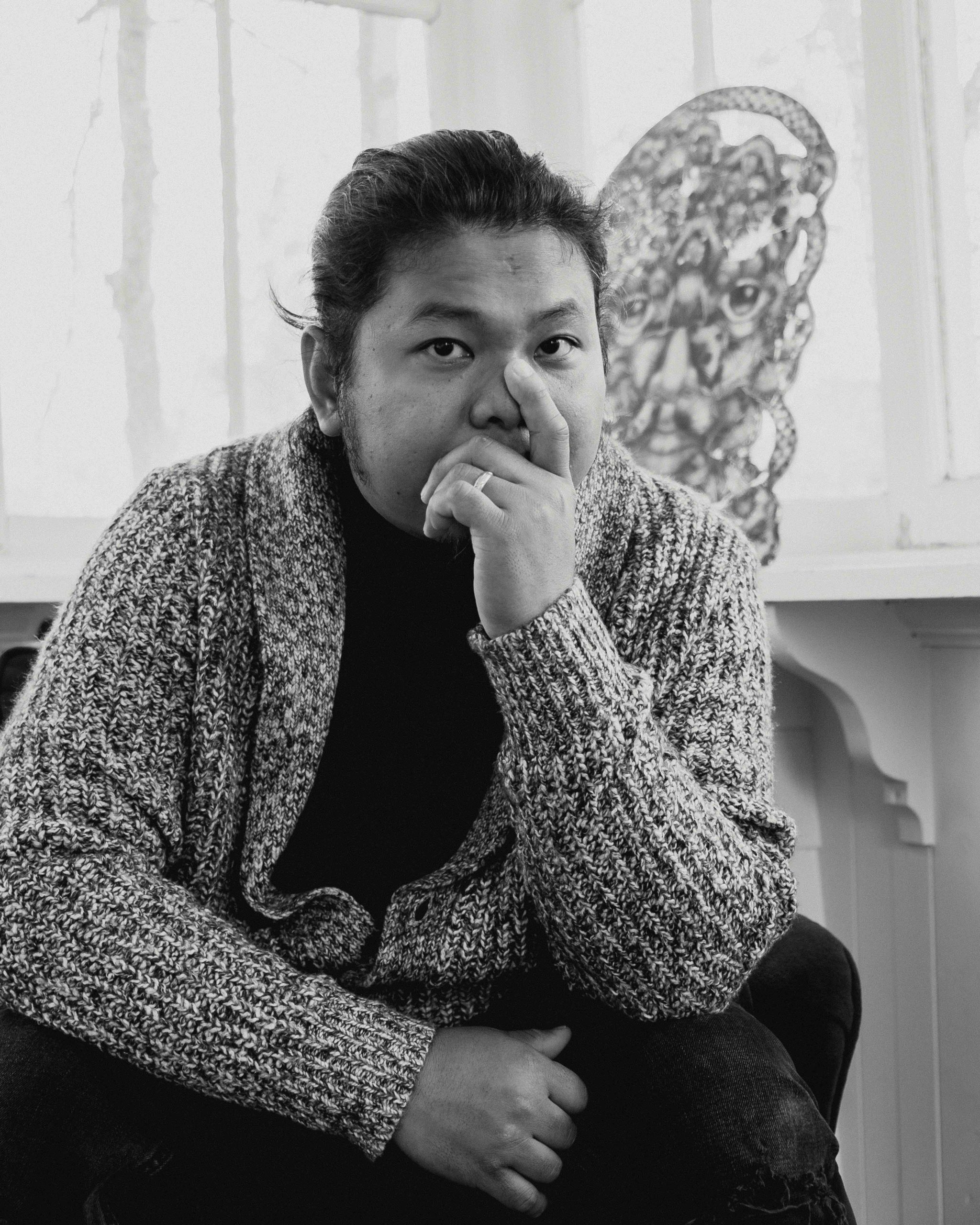 Patrick Fernandez is a contemporary visual artist who lives and works in Regina, Saskatchewan. A native of Pangasinan, Philippines, his colourful paintings uses symbolism and reimagined folklore imagery as a means of storytelling. His works are based on personal experiences that deal with displacement and adaptation, using circumstances as turning points for growth.
His process starts by gathering news clippings of current events, note taking, and research about places, social and ecological issues. He also draw a lot from Philippine folklore, customs, traditions and idioms, because he often find take off points in using selected elements and symbolic references from them. The Philippines has a rich native culture that offer limitless inspiration that he use to translate into art making. He then relate these references to more universal themes, intertwining them with contemporary experiences and my point of view as an immigrant.
By using repeated patterns as a way of expressing displacement, Patrick creates ornate surfaces built up through numerous layers of paint application and then place visual elements juxtaposed with each other to create organized chaos. His imagery aims to stimulate audiences into understanding the socio political issues he integrates into  his works. Through art, his objective is to create new meaning, provoke thought, engage with audiences and encourage dialogue.
Fernandez's artwork has been widely shown in exhibitions in the Philippines and in Asia, including his 4th solo exhibition "Nowhere" at Pinto Art Museum in Antipolo City,Philippines. Since coming to Regina in 2017, He already presented 2 solo exhibition in The Woods Art Space which include "HOME" in September 2018 and "LUNTIAN (Green)" in 2020. As an active artist in the community, Fernandez is currently serving on the Board of Directors for the Art Gallery of Regina, and as a co – Director at the Woods Art Space.